Schwäbische Rezepte (Swabian Recipes)
Schwäbische Spätzle
So here it is: the top secret Wittig family recipe for the best Spätzle in the world:
Ingredients (per person):
100g flour (= 3/4 cup)
1 large egg
20ml cold water (= 1 1/2 tablespoons)
1/4 teaspoon salt
freshly ground black pepper
freshly ground nutmeg (lots of it ;-)
Just mix everything in a bowl. It should be a gooey, sticky dough. If it is to dry, slowly add some more water. If it flows, then there is too much liquid in it. Just add some more flour.
Now just scrape the dough into boiling salted water. Or use a Spätzlespresse or a Spätzlehobel if you want to cheat.
When they are done, the Spätzle will float on the water. Just take them out and here you have them: Perfect Swabian Spätzle.
Schwäbischer Zwiebelkuchen
Ingredients: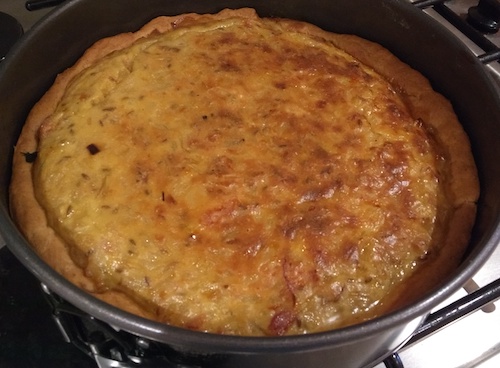 Freshly baked Zwiebelkuchen
250g flour
50g butter
150ml warm milk
1 envelope dried yeast
1 teaspoon salt
1/2 teaspoon sugar
500g onions (about 6 smaller ones)
50g butter
100g diced, smoked bacon
150ml single cream
1 tablespoon flour
2 eggs
salt
cumin
Mix all the ingredients for the dough in a bowl and knead a yeast dough from it. It should still be a bit sticky. Let rise in a warm place for about 45 minutes.
Meanwhile chop the onions into cubes, and sautée with the butter in a pan. Turn off the heat and sprinkle with flour. Stir in the cream and diced bacon and let cool off a bit. Whisk the eggs and stir into the onion filling. Add salt and cumin to taste.
Fill dough into a buttered and flowered springform pan and form a nice crust on the side. Pop into preheated oven at about 180-200°C for a couple minutes before filling with the onion filling. Reduce heat to 175°C and bake for about 35-45 minutes. Let cool before removing from the pan. Enjoy with a refreshing glass of apple cider or young wine.
Schwäbischer Kartoffelsalat (swabian potatoe salad)
Ingredients:
10-12 Salad Potatoes ("Sieglinde" are best)
1 onion
1 bunch of green onions
1 liter beef (or chicken) broth
2 Tsp good (i.e. french) mustard
good vinegar (white balsamic or apple)
Salt, Pepper
Wash and boil potatoes. Don't use too much water. When potatoes are soft (but not too soft) immediately drain them. If you don't they'll suck up the water and then they won't soak up the broth afterwards.
Peel potatoes and cut into thin slices. The thinner the better. Make sure the potatoes are not fully cooled because warm potatoes will soak up the broth better.
Finely mince onion and green onion. Heat up the broth. If you don't like the strong taste of the onions, boil them with the broth for a couple minutes. Slowly pour the broth over the potatoes. Stop and check if the potatoes still soak up the liquid. Don't add too much, you don't want excess broth.
Carefully add mustard, salt, pepper and vinegar to taste. Take a little vinegar first and taste to see if you want to add more. Mix with two forks (if you use spoons you will probably mash the potatoes and end up with some disgusting looking pap).
The salad should sit in the fridge for at least 1 hour now. Shortly before you serve it, stirr in a little olive oil.
If you want to make it even more fancy you can add finely diced pickles, ham or bacon. Serve with tomatoes and/or radish (the small, round, red ones!).
Schwäbische Laugenbrezel
Ingredients:
4 cups of flour
1 envelope yeast
1 1/2 tablespoons of salt
1 1/2 cups warm water (warm, not hot!)
3 tablespoons baking soda
coarse sea salt
In a big bowl knead together flour, yeast, salt and water to make a yeast dough. Divide the dough into about 10-12 pieces and form Brezeln. Let rest for about 15 minutes.
Bring about 1 quart of water to a boil and add baking soda (be careful, it bubbles!). Now take the brezeln and using a wire spoon imerse them into the boiling water for a few seconds. Place back on the baking sheet.
Preheat oven to 450°F. Make a cut in the body of the Brezel and sprinkle with coarse salt. Bake for 20 minutes or until they are nice and brown.